Evan, the force behind Eve2 also loves to make things with wood - often large impressive signage for churches, hand crafted and often made from reclaimed wood materials as a means of depicting something of God's grace and love in taken the unloved and making them beautiful.

We don't sell those items here on Eve2 but rather on our sister site over on Etsy called Holy Relics Woodcraft. You can visit the store here: Holy Relics Woodcraft

If you would like to speak to Evan about a custom project for your home or church please feel free to get in touch here via Eve2 or via the contact form over on Etsy, or just email Evan on evan@eve2.co.uk.

Right now we are working with A Passion For Life in creating their range of light up "Life" logos for the upcoming national evangelism strategy. If you would like to purchase one of those signs please head to the dedicated Etsy category at Holy Relics Woodcraft: A Passion For Life Signs on Holy Relics Woodcraft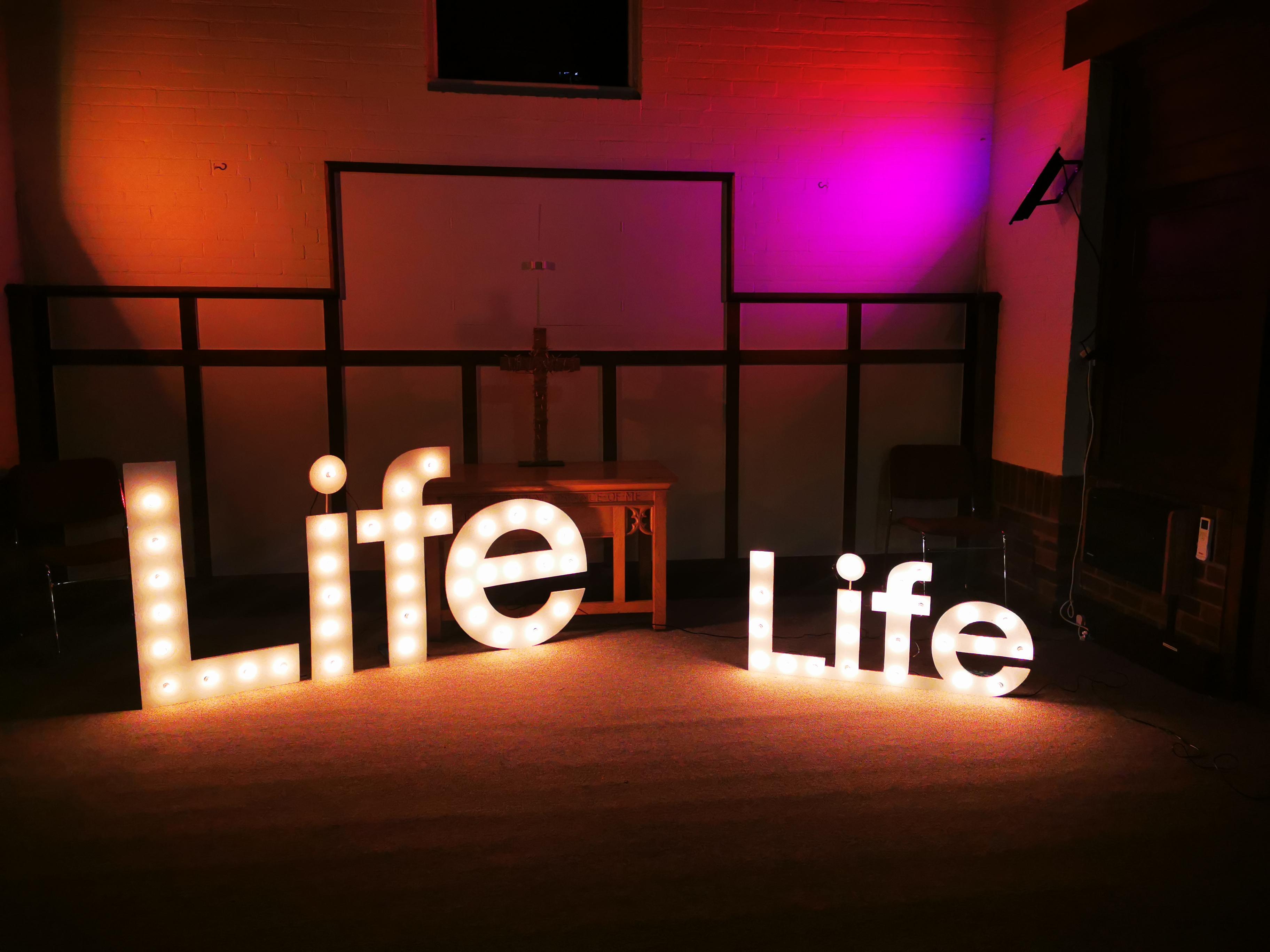 About A Passion For Life signs:
Evan is undertaking the task of creating all the Life signs ordered on behalf of A Passion For Life. There are three items available for you to choose from over on the Holy Relics Woodcraft store:
1. A DIY template and list of instructions and materials
2. A Smaller sign suitable for smaller church venues and larger window displays
3. A Large set of 4 letters suitable for larger venues
The DIY kit consists of a large format printed template which Evan will ship directly to you and a PDF sent via email with all the instructions you will need to complete the work yourself.
The smaller physical sign will be shipped by courier to you complete, other than fixing in the lamps (which is very easy and requires no technical skill or tools). The smaller signs are a single solid piece, joined at the base of the letters. These signs come with two simple 90 degree angled brackets on the base suitable for fixing in your venue to whatever you find is suitable to fixing them to, or they can simply be weighted down to provide stability. Or the brackets can be easily removed and the sign hung on a wall instead. The lighting kit we use is a sealed completed lighting kit with 25 warm LED bulbs. It is safe and easy to use.
The larger physical sign is made of 4 individual separate letters. They are around 1m in height. The lighting kit runs between the letters and as with the smaller sign will require a small amount of assembly once they arrive, but again with no technical skills required or tools. Again, the letters come with simple brackets at the rear for you to fix in place securely in your venue or to weight down appropriately. Again, the brackets can be removed and the letters hung on a wall if required or preferred.
Please purchase the correct item for your venue. You can purchase these signs here: Passion for Life signs