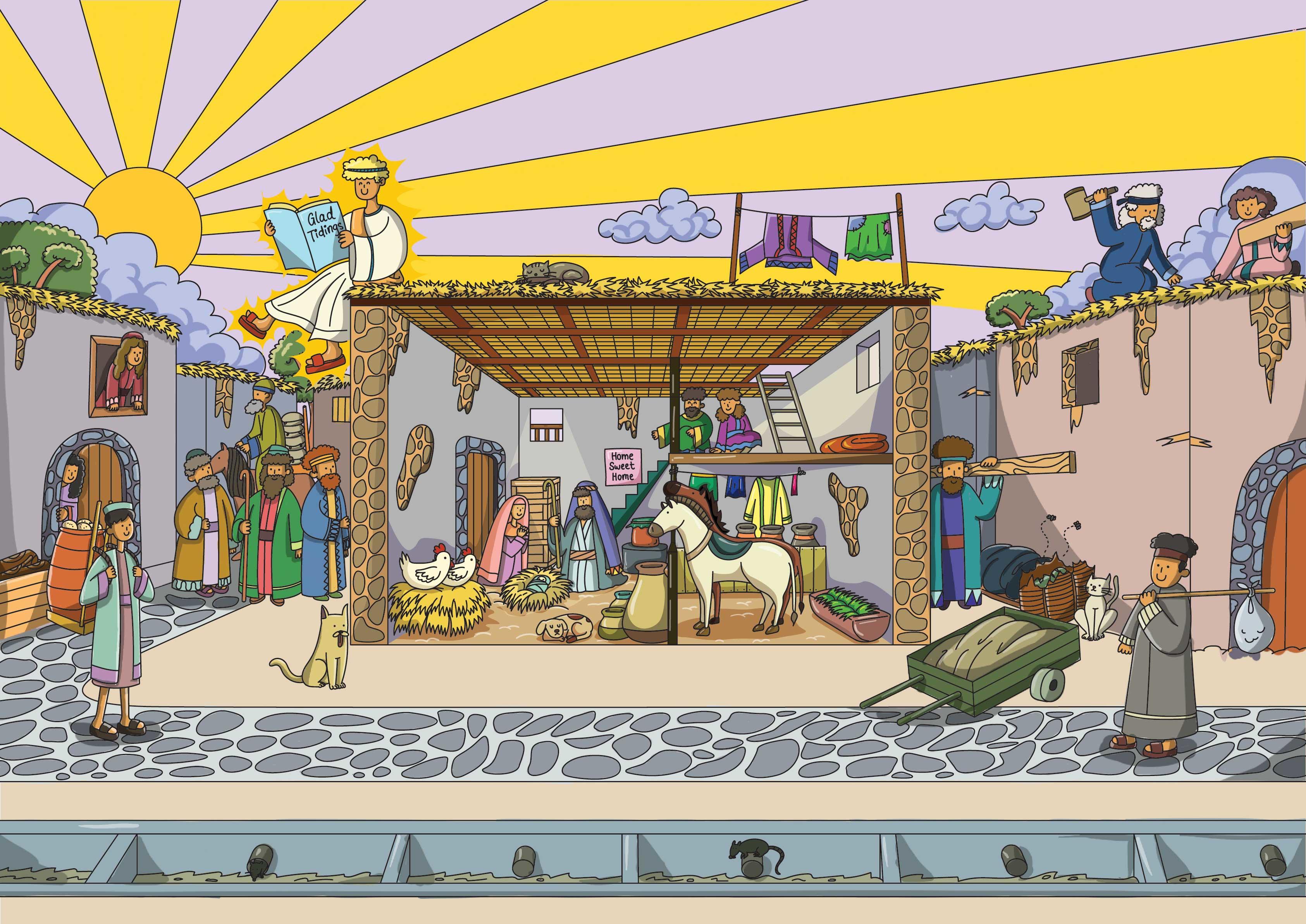 The Real Nativity - Colouring and Resource Sheets
Our Real Nativity colouring sheet is quite something else! 
The traditional view of Jesus' birth is Mary riding on a donkey with Joseph, to Bethlehem. There they try to find somewhere to stay but all the inns are full up and they end up out in a stable on their own, in the cold and dark. 
A beautiful story, but completely inaccurate and in no way follows the actual story told in the Bible. Yes, there was Mary and Joseph and yes they went to Bethlehem but there was no mention of a donkey in the Bible, or inns, or stables! Don't believe us? Then go and refresh your memory by reading one of the gospel accounts and prepare to be surprised! 
This colouring sheet takes from the Biblical account of what REALLY happened, and marries that narrative with up to date archaeological evidence of what the setting for Jesus' birth would have REALLY looked like. A 1st century A.D. home is depicted here, with animals downstairs and inside the home, a manger in the floor, an upstairs dwelling space, and most importantly of all - Jesus being born within a warm home space, welcomed in and protected by four walls. Around that setting a bustling village or town with streets, sewers and people milling about. You can imagine the noises, smells and busyness of the setting - a far cry from the cold lonely stable tradition has told us made for the first Christmas. 
Why use this resource?
Well we hope this will be a really helpful way of getting people to think afresh about Jesus' birth and to ask questions, engage with the actual Biblical text and learn something new about Christmas and the kind of setting Jesus was born into. 
What's included?
You will get an instant download of a 3 page PDF document which you can print in your home or church office (you are not authorised to print this at a commercial printer other than Eve2). You may make as many copies as you wish for your church congregation using the church license. Please buy one license per distinct congregation you minister to. The PDF contains the colouring sheet which is black and white, the resource sheet which talks you through the items in the design to help people think, learn and reflect, and a fully rendered version of the artwork so you get an idea of how you could colour it (but we're not trying to limit creativity!)