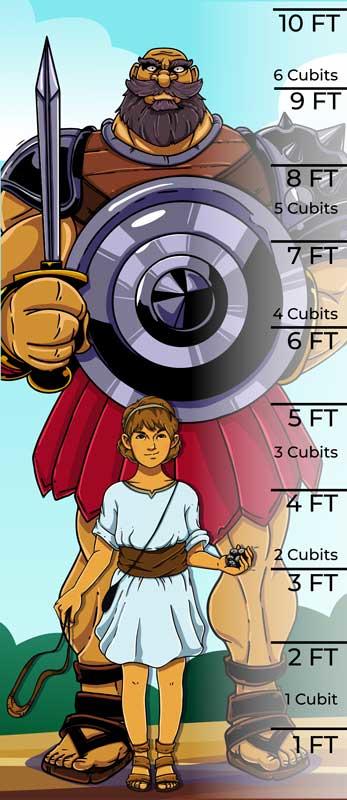 David and Goliath GIANT Banner
This is perhaps the most awe inspiring of our creations yet. This is a FULL SIZE banner complete with height chart showing the very real difference in size between the giant Goliath and the boy David. Yes, really! This banner is 3m tall and either 1m or 1.3m wide and designed to be hung vertically on a wall space in your church. This artwork is unique to Eve2 and comes on a long lasting PVC banner with both metal eyelets and a pocket pouch at both ends.
This banner will make a super impressive feature in any church space and create a real buzz of excitement and engagement with your whole congregation a folks measure themselves against Goliath. 
The figure of David is set at what we believe the average height of a boy David's age would have been when he met Goliath in battle. 
You won't find anything like this anywhere else.

Price includes Postage & Packing
Further Details:
The story of David and Goliath is one of the most iconic stories from the whole of Scripture. How though do you convey to a congregation the true terrifying size of Goliath? How can you impress on everyone the full enormity of what David, the young boy, was up against?
Well, using our full size 3m tall banner with our custom illustration including a ruler for people to measure themselves against might just be a start!
Printed onto 450gsm PVC Banner media to make it robust and long lasting, with a pole pocket at the top to make it easy to hang in any church space. Available in either 1m wide or 1.3m wide versions. Also available as a colouring poster in a range of sizes and available on either PVC Banner media or poster paper.
The premise behind this product is to convey in a powerful way just how HUGE Goliath was. This product can be used in church, in Sunday Groups, or school assemblies. It gives a graphical representation of what "6 cubits and a span" or 9ft 9 inches looks like in real life, and what the size difference between David and Goliath might have actually looked like. The follow on from that then would be to talk to people perhaps about how our problems can seem huge but it doesn't really matter if we tackle things with God on our side ... etc.
It has a ruler down the side with the expectation that people would come and compare their own size to Goliath's.
How to install your banner:
Your banner will come with two metal eyelets in the top corners so you can easily hold this up with rope or string. It will also have an open long loop of material on the top edge at the back to make it easy for you to place a length of wood in that space to hold the top rigid. That piece of wood can be hooked onto a pole or shelf or whatever you have to hand. Please note though, the way in which you find a suitable means of holding the banner upright is up to you to work out at your end according to the physical context you will be displaying it in. We are always very happy to share our experience and give suggestions about what you might use. We can't however supply stands for the banner at this time.