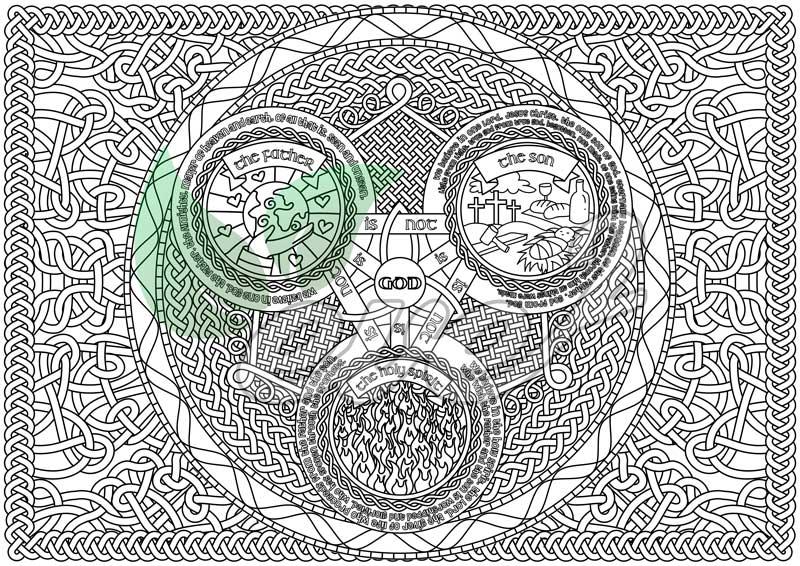 Celtic Trinity Colouring Sheet
The doctrine of the Trinity has long confused and befuddled folks as to how best to explain it. Celtic art though has always been one step ahead of the game by using beautiful patterns and shapes to depict the interrelatedness of God. Since medieval times the Shield of the Trinity was also popular in summarising the opening words of the Athanasian Creed. We have tried to fuse both Celtic art and the Shield of the Trinity into one piece. This then is our humble offering to allow people of all ages to engage with the idea of Father, Son and Holy Spirit in a beautiful way. We hope that as people enjoy this colouring sheet they will be thinking about what God is like. 
License Types
We want our resources to be used and used widely, so we offer two types of license. Home Use and Church Use. With either license you can download and enjoy this product as many times as you like. Print and colour, print and colour, print and colour - to your heart's content. No problem at all. 
With a Home Use license you can print as many copies as you want for all the children (and adults) in your own home.
With a Church Use license you can download our colouring sheet artwork and then print on your church printer or copier, or distribute via email to your church members as much as you like. All we ask is that you don't misuse this offer. Please don't send this out beyond your own single church congregation. If you are part of a network, deanery, benefice or circuit of churches please buy one license per distinct local congregation. These resources do cost a lot of money to produce. If you need to buy a lot of licenses please talk to us and we will work out something which works for you and Eve2.

What can't you do?
Our licenses do NOT permit you to display this as a downloadable file on your own website or social media page (This is necessary to prevent people from downloading it for free rather than supporting Eve2's ministry). You are not permitted to send this to friends or family unless they fall under the "Church License" terms. You are not permitted to sell or otherwise redistribute this artwork, with or without modification.