Direct To Garment Printing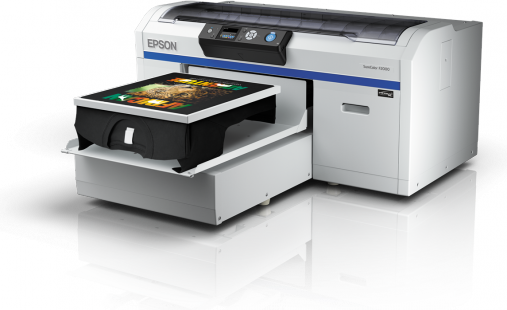 Direct To Garment printing is at the heart of Eve2. This is a relatively new technology which allows us to print ink directly onto cotton fabrics - t-shirts, hoodies, cushion covers, Flat cotton sheet, hessian, babywear, denim and much more.
DTG is a highly versatile method of printing and allows a full colour print every time with a minimum order quantity of just one item.
The difference between DTG and Screen Printing is huge. DTG will print a full colour photograph quite happily, while screen printing will find this impossible. The benefits of screen printing are low cost. The downsides though are limited colours, high setup fees and large minimum print runs to make it worthwhile. DTG has none of these problems, but is more costly as a unit by unit cost when compared to a high volume print done with a screen printer.
DTG will print to any colour cotton, but cotton which is already coloured (eg, a black t-shirt) needs to be pre-treated first. This pre-treatment process involves the cotton area to be printed being sprayed in a milky white liquid, which is allowed to soak into the cotton and then heat pressed until dry. This coats the cotton fibres in a transparent layer which receives white ink as an underbase before colour inks are printed over the top. This process allows full colour print to stand out against any colour background. When you receive a DTG printed shirt you may be able to see a faint rectangular box showing where the pre-treatment process was applied. This box will disappear after the first wash, if it is even visible at all. It is nothing to worry about. We call it a print box. It is worth understanding that this can and does happen though especially if you are planning to sell your items as retail units. You may wish to plan to steam clean the garments prior to sale if this is ever an issue for you.
By using Direct-to-Garment printing as a core part of the Eve2 workshop we are uniquely able to offer a print-on-demand service. You can setup an online Merch store with your own designs, which when a sale is made triggers us pulling the correct garment from our supplies, printing it, and shipping it out to your customers for you. This means there are no overheads for you to worry about, no stock control, no minimums and maximum peace of mind.